Do you want to add push notifications to your WordPress site? Push notifications allow you to send notifications to users even when they are not visiting your website.
In this article, we will show you how to easily add web push notifications to your WordPress site. We will also talk about the best WordPress push notification plugins and how to send desktop & mobile push notifications from your WordPress site.
What is Push Notification?
Push notifications are clickable messages displayed on top of user's desktop or notification area on their mobile device. They can be shown even when the user's browser is not open.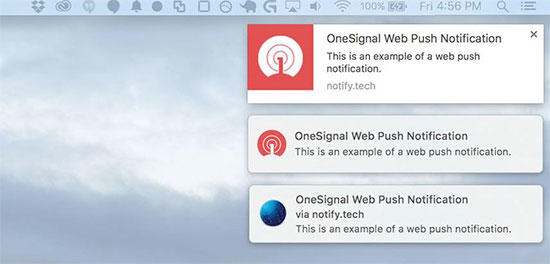 Aside from desktop, web push notifications also work on mobile devices. This allows you to reach your users across devices with latest updates and offers. Web push notifications have proven to be a very effective way to convert website visitors into customers and loyal followers.
Why Add Web Push Notifications to Your WordPress Site?
We have already discussed that 70% of people who leave your website will never come back. This is why you need to convert those website users into subscribers or customers.
You can do this by utilizing multiple channels at once. This includes email marketing, social media, mobile or SMS marketing, and web push notifications.
While email lists are still the most dominant and effective marketing tool at your disposal, push notifications for us are proving to be quite effective.
Here is why:
Users need to give their explicit permission to receive push notifications. This means they are already interested in what you have to offer and are more likely to engage with notifications.
Push notifications are shorter and demand less attention than email or social media updates.
There is no algorithm, so nearly 100% of messages are delivered.
Users can control how their devices display notifications, they can snooze them, or turn them off entirely.
Not as many companies are using it.
Popular sites including Facebook, Pinterest, LinkedIn, and many others understand the importance and are already using web push notifications.
These notifications are more engaging than SMS, email marketing, and social media platforms. According to a survey, push notifications have a 50% higher open rate than email and twice as much click-rate.
Having said that, let's take a look at how to add web push notifications to a WordPress site.
Setting up Web Push Notifications in WordPress with OneSignal
OneSignal is a free push notification service for WordPress websites. It allows you to easily add push notifications to any website.
First thing you need to do is install and activate the OneSignal plugin. Need help installing the plugin? See our step by step guide on how to install a WordPress plugin.
Upon activation, the plugin will add a new menu item labeled OneSignal to your WordPress admin bar. Clicking on it will take you to the plugin's settings page.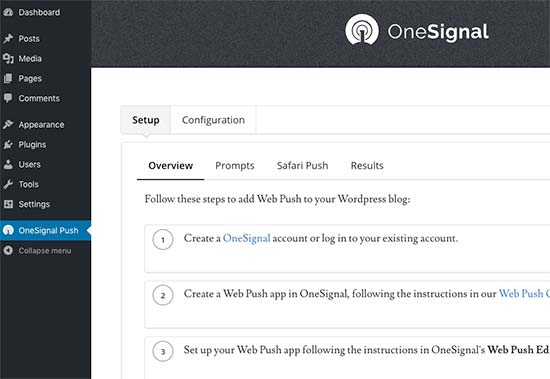 The settings page is divided into Setup and Configuration tabs. The setup tab is actually detailed documentation on how to setup OneSignal push notifications in WordPress. It has the same steps that we will show you in this tutorial.
To setup OneSignal, you will need to add API Key and APP ID into the plugin settings.
Let's get started.
Step 1: Setting up OneSignal Push Notifcations
First, you need to visit the OneSignal website and click on the…