Looking for white hat SEO examples?
You've come to the right place!
Today, you're going to learn how I used white hat SEO techniques to grow my blog from 0 to over 1,000 daily visitors…
…in less than 6 months.
By Bill Widmer
Take a look: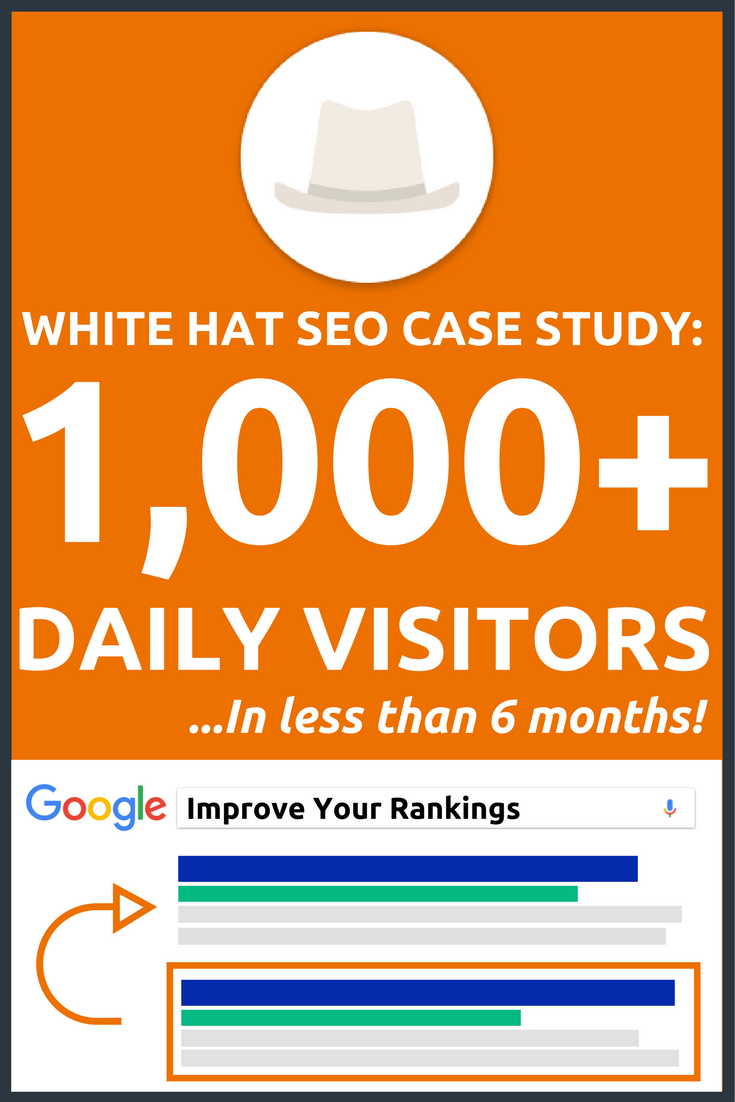 The techniques you're about to learn allowed me to rank #2 on Google for a highly competitive (and high-converting) keyword: "RV accessories".
I even used this step-by-step strategy to out-rank huge companies like Amazon and Camping World.
Wanna know how? Keep reading.
Free Bonus: ​​Click here to get a FREE SEO cheat sheet that shows you exactlywhat to do to rank your website in Google's top 3 in less than 6 months.
What is White Hat SEO? (Click to Reveal)
White Hat SEO Case Study: How I Achieved a #2 Ranking, 1,000+ Daily Blog Visitors, and $36,525.35 in Passive Sales
That's right. My article on RV accessories now ranks #2 for it's main keyword (under the ads of course)…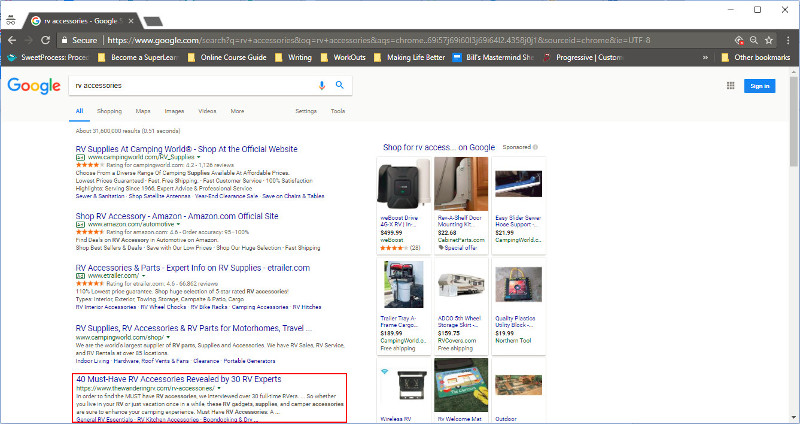 …gets over 1,000 daily visitors (most days)…

…and generated $36,525.35 in completely passive revenue in a single month.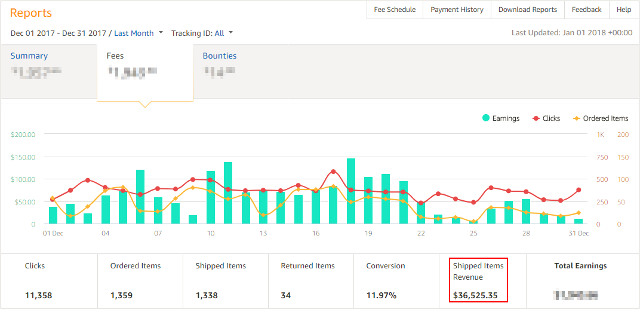 (Sure, it was Amazon's revenue, not mine – but imagine if I turned my blog into an eCommerce store. Cha-ching!)
Oh, and if that wasn't enough, the post generated 138 backlinks from 31 unique domains and ranks for over 2,000 keywords!
In short: White hat SEO works really freaking well.
Want to learn a repeatable, step-by-step process to see the same results for your website? Whether you just learned how to start a blog or you've been doing SEO for years, this SEO case study is sure to teach you something new.Table of ContentsStep 1: Find Your InfluencersStep 2: Choose a Proven TopicStep 3: Research Your KeywordStep 4: Create World-Class ContentStep 5: Promote, Engage, and Build LinksStep 6: Use Minor Tweaks to Boost Your RankingsStep 7: Monitor Your Keywords
Related Reading: 7 Common SEO Mistakes Even The Experts Make
Step 1: Find Your Influencers
Ranking a website requires three things…
Great content on proven topics
Promotion
Backlinks directly to the web pages you're trying to rank
That's why the first step to a great SEO campaign is to find the authority figures in your niche.
The people with big followings and high domain authority websites have already tested hundreds, sometimes thousands, of topics. They've found what works.
Plus, by finding these people and including them in your content, you're baking promotion and link building directly into your website. You'll see what I mean in a minute…
For now, head over to our trusty friend Google and look at the search engine results for topics you're considering writing about.
The top results are influencers/authorities in your niche. These are the people you want to befriend.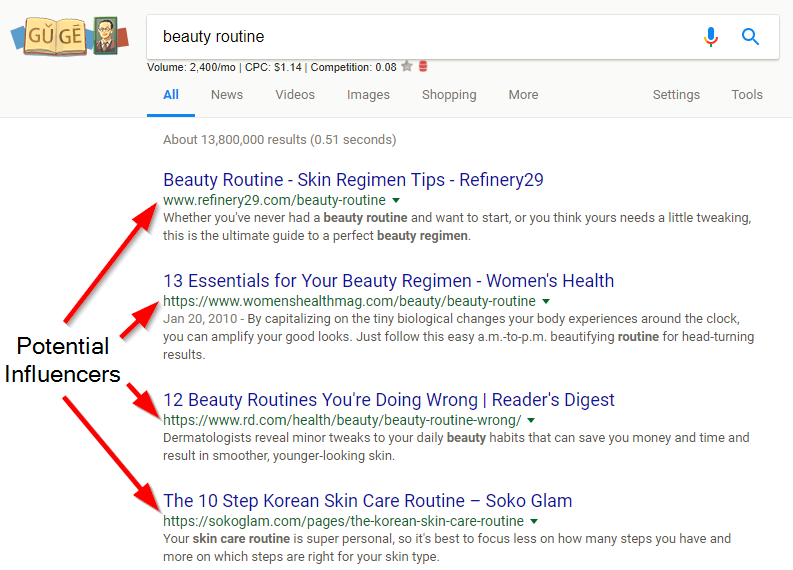 For the RV blog, I searched for things like "how to live in an RV", "what kind of RV should I buy", "RV guides", etc. and saved anything promising.
Pro Tip: If you want to find a lot of influencers at once, just type in "best [topic] blogs". When I searched "best RV blogs", I found a list of nearly 100. Goldmine!
Keep a spreadsheet of all the sites you find. Google sheets works wonders for this.
Here's what mine looked like:

Simple – a column for their name, contact info, website URL, and social profiles.
Keep in mind that you may not be able to find everyone's email. If that's the case, get their contact page URL. For help finding emails, check out this guide.
You can also add a column for notes, a column for when you reached out and how, and a column for domain authority (DA), if you're so inclined. (Links from high DA sites pass more authority to your site.)
Pro Tip: Install the Mozbar browser extension to see a site's domain authority at a glance!
Now that you have this list, let's put it to good use.
Step 2: Choose a Proven Topic
Look:
Influencers became influencers by talking about the hottest topics in your niche.
Their thumb is on the pulse of your industry.
So if you want to write about the things people in your industry care about, you should look at what the influencers are talking about.
Literally, go to their site and check out their blog! Do it now, I'll wait.
For example, on Heath and Alyssa's site (they're awesome full-time RVers who run a podcast called the RV Entrepreneur), I noticed they blog about guides to RVing and their favorite campgrounds.

When I check other big RV blogs like Less Junk More Journey and Ardent Camper, I notice a similar trend.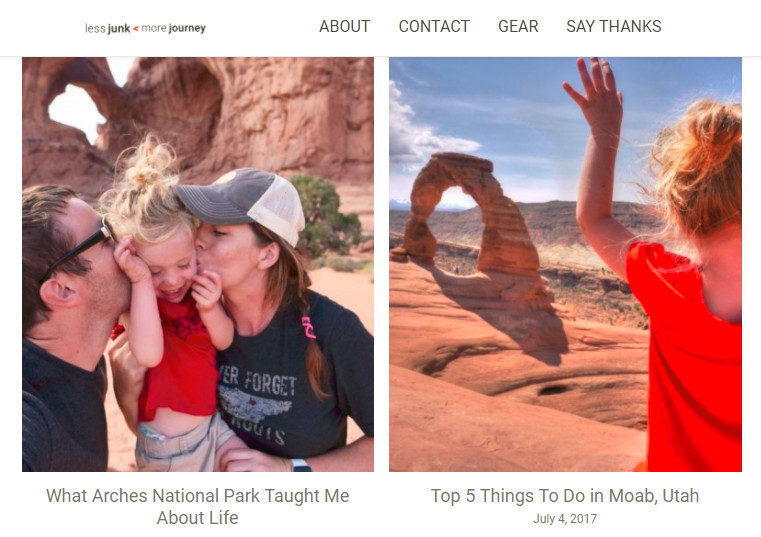 This tells me that it's a good idea to write a post about campgrounds or RVing guides.In addition to looking at what the influencers are talking about, you should also check YouTube to see what's popular in your niche. Just grab a keyword (like "motorhome", "ecommerce", or "cooking") and see what comes up.
Pro Tip: Use YouTube for Content Ideas
​In addition to looking at what the influencers are talking about, you should also check YouTube to see what's popular in your niche.
Just grab a broad keyword around your site's content (like "motorhome", "ecommerce", or "cooking") and see what comes up.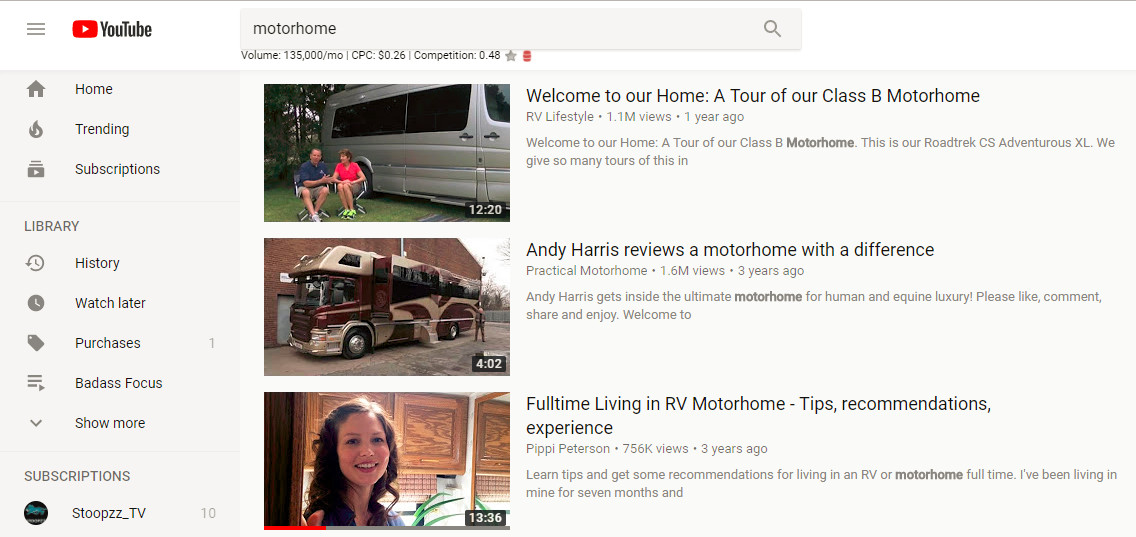 In this case, I see tips and recommendations for living in an RV. Great idea for a post!
(In case you're wondering, I found a highly popular post that recommended RV accessories, and that's how I got my topic idea.)
Once you dig up a few good topic ideas, it's time for…
Step 3: Research Your Keyword
It's important to pick a kickass keyword for your content campaign.
Why?
Because your keyword choice will determine how long it takes to rank, how much traffic you get, and how easily that traffic converts.
So how do you find a good keyword?
For starters, all good keywords…