Most websites collect information from their users, whether it's through contact forms, newsletter subscriptions, or online sales.
Especially if online transactions happen on your site, the last thing you want is to have your customers' credit card or other personal information stolen. This is where SSL comes into play.
An SSL certificate is not only for business sites – any kind of website benefits from an added layer of security. Not only does an SSL certificate help ensure the protection of customer data, but it also improves the site's position on search engine results and its credibility.
In this article, we will discuss different aspects related to SSL – from its definition and benefits to its misconceptions.
What Is SSL and How Does It Work?
Secure Sockets Layer (SSL) is a security protocol that creates an encrypted connection between a web server and a browser. It provides a secure connection and prevents third parties from accessing or modifying information transferred.
To get an SSL certificate, website owners must buy it from a Certificate Authority (CA). The CA will use the CSR or Certificate Signing Request to create the certificate.
The CSR is an encrypted text generated on the server where the certificate will be installed. It includes information such as the website's domain name, contact details, and the public key to encrypt the data sent.
When the visitor's browser tries to access the website, the web server will send a copy of the certificate for verification.
If the process is successful, an SSL-secured connection will be established. The website will use an URL that starts with HTTPS and, depending on the browser, a padlock icon will be displayed in the address bar.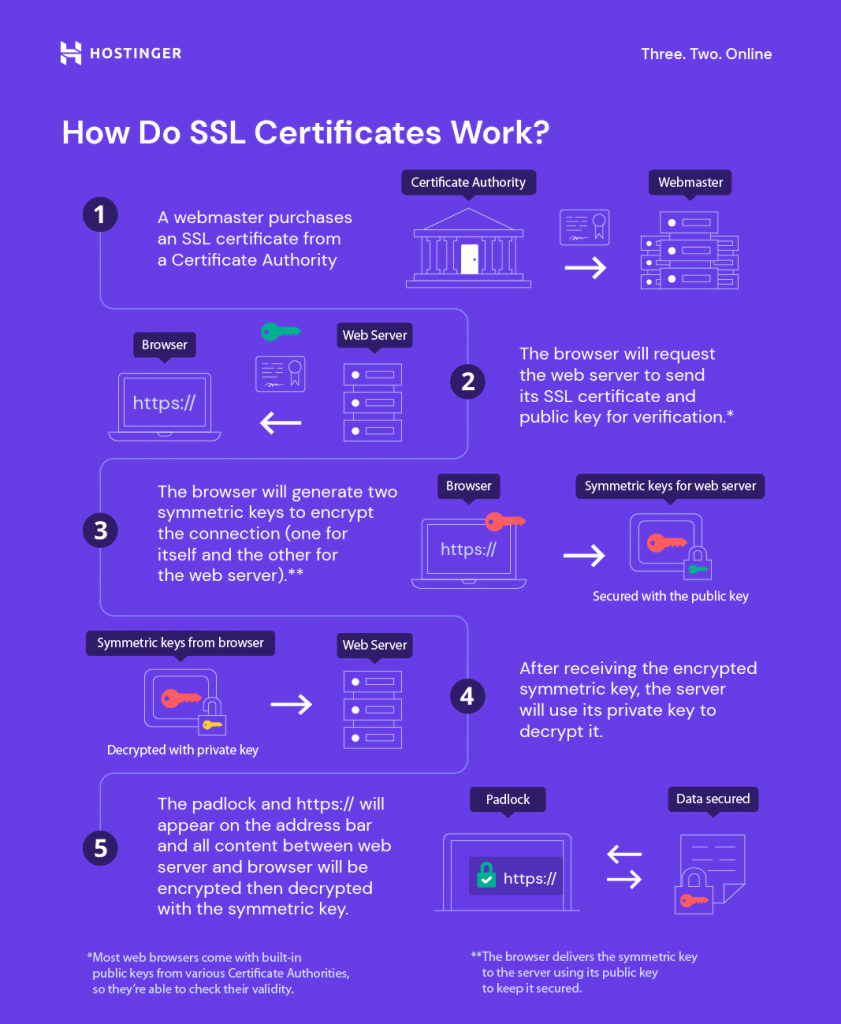 Why Do I Need an SSL Certificate?
Having an SSL certificate is not only about protecting sensitive information. This section will cover other reasons why you need this digital certificate.
Improve Security
There are many ways to make your site secure. Adding an SSL certificate provides an extra and crucial layer of protection against malicious attacks.
Even if the website doesn't accept transactions, you still need to protect users' login details, addresses, and other personal information.
Websites without SSL certificates use HTTP, a text-based protocol, meaning it's easier to intercept and read its traffic. HTTPS uses cryptographic keys to encrypt data, providing more complex security and making it difficult for potential attackers to intercept the data exchange.
Thus, the HTTPS protocol protects your website against digital threats such as man-in-the-middle (MITM) attacks. These attacks take place when someone intercepts the traffic between the website's server or the client's browser.
Attackers may either steal information exchanged or redirect traffic to a phishing website, where they ask for login credentials or other sensitive data.
Even if an attacker intercepts your connection, having an SSL certificate ensures that they cannot decrypt the information passed.
Establish Trust
Establishing trust with your customers is essential. Particularly in the case of online businesses, your customers need concrete proof that it's safe to provide their data. Research shows that 17% of shoppers abandon their carts because they don't trust the website enough to enter their credit card details.
An SSL certificate communicates to visitors that they can safely exchange information with the website, encouraging them to use your service and keeping you ahead of competitors who don't have one.
Furthermore, it helps visitors verify ownership of the website before signing in or providing other sensitive information.
Strengthen SEO
Another advantage of installing an SSL certificate is boosting your SEO strategy. Google and other search engines have made website security an important factor when determining page rankings.
Since they aim to provide users with a safe web browsing experience, Google Chrome and other web browsers display a "Not Secure" warning message on all non-SSL websites to alert visitors.
Having an SSL certificate gives you an advantage over competitors who do not have one, improving your site's position on search engine results pages (SERPs).
When Does My Website Need an SSL Certificate?
Installing an SSL certificate should be a top priority for all website owners.
Read on…article continues HERE on Hostinger Tutorials website